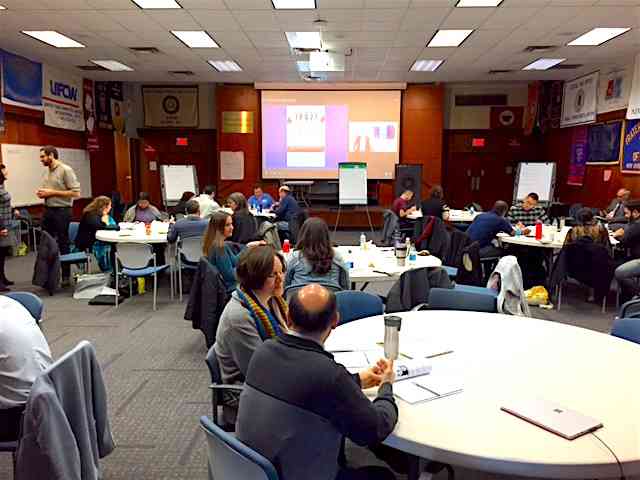 Join Our
Education Campaign


To Reverse
Runaway Inequality.
Resistance is breaking out all over. Millions are eager to help take back our country from the hard right. To get there, we need educators—thousands of them—to spread the word.
During America's first epic battle against Wall Street, the Populist movement of the late 19th century fielded 6,000 educators to help small farmers, black and white, learn how to reverse runaway inequality. Because of their efforts a powerful movement grew to take back our country from the moneyed interests—an effort that ultimately culminated in social security, the regulation of Wall Street and large corporations, and the protection of working people on the job.
Today, we need an army of educators to spread the word about how runaway inequality is linking all of us together. The recent upsurge in protests to resist Trump proves that our friends and neighbors are ready to build and join a new movement.
But sustained movement building requires an educational infrastructure. Towards that end we are helping groups all over the country conduct workshops based on the facts and figures assembled in Runaway Inequality and accompanying curricula.
Why training programs?
Runaway inequality will not cure itself. There is no hidden mechanism in the economy that will right the ship. Financial and corporate elites are gaining more and more at our expense.
The financial strip-mining of our economy impacts all of us and our issues—from climate change, to mass incarceration, to declining incomes, to labor rights, to student loans.
It will take an organized mass movement to take back our country from the hard right. That means no matter what our individual identity (labor, environment, Black Lives Matter etc.) we also need to take on the identity of movement builder. We come together or we all lose.
We can start the building process right now by sharing educational information with our friends, colleagues and neighbors.
Union and community groups all across the country are already engaged.
The Communications Workers of America is training 80 worker-trainers who will provide 8 hours of education to 1,000 members who will get a day off from work to attend.
Citizen Action NY has trained 40 trainers who are conducted programs throughout New York State.
The Work Environment Council of New Jersey in cooperation with the New Jersey Education Association and other unions and community groups held it's first train-the-trainer on February 3-4 and another on March 3-4. They will field over 40 trainers who will reach 1,000 labor and community members in the next year.
A similar program is being piloted in March for union members and environmentalist in the Bay Area.
We are honored that our materials are supporting these efforts. (All royalties and revenues from the book sales and training programs are being plowed back into the educational campaign.)
Please join us in this effort. Contact us to discuss how you can help spread the word. We need you. We need each other.
Visit the Indivisible Guide for more than 5,000 groups you can work with on progressive issues.