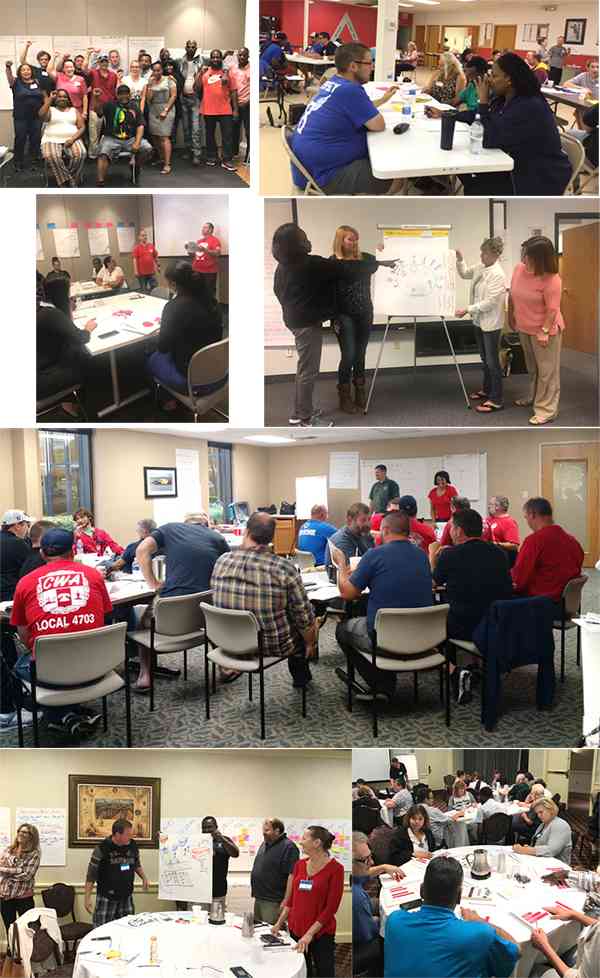 To build a movement large enough to reverse runaway inequality and help fix all its connected ills, we all need to promote solidarity among our many peoples and movements.
What Do Solidarity Builders Do?
We educate ourselves about runaway inequality and we share information with others, reaching out especially to those who may not agree with us.
Ways to prepare:
>>Read Runaway Inequality: A Social Activist's Guide to Economic Justice. There are discussion questions at the end of each chapter. (If you want to set up a reading group, books are available at cost plus shipping. Let us know.)
>>Join one of our online video workshops. (If you join Runaway Inequality you'll hear about upcoming workshops by email.)
>>Download, read, and share the curriculum. (Follow the link. There are trainer and participant versions of the workbook.)
The next step is to take action.
Action means helping people see that all our issues, from racism and climate change to policing and the low minimum wage, are connected to the massive increase in wealth and income of the few.
Action means sharing the charts and talking points in the workshop curriculum with neighbors, members of your church and community groups, co-workers, family, and friends, especially those that don't already agree with the idea that runaway inequality is a key problem in all our lives.
Action means voting, local candidate support, letter writing, and other activities that build solidarity and push progress reversing runaway inequality and address all the interconnected social and economic justice issues.
Growing the Network
To have an impact on a country as large as ours, we all need to grow the Solidarity Builder network. Each workshop, each presentation, and each educational encounter should encourage participants to spread the word.
Finally, please share your experiences [report events] with others in the network so that we can all learn from each other. They'll be posted on the News page at RunawayInequality.org website and across social media.
It's time to build a mass movement powerful enough to reverse runaway inequality before it tears us even farther apart. Together we can make a big difference.
We are honored that our materials are supporting these efforts. (All royalties and revenues from the book sales and training programs are being plowed back into the educational campaign.)
Join Us Now!
Receive our monthly newsletter about Runaway Inequality.
We will never ask you for donations.