Reversing Runaway Inequality – SF Bay Area
Tues. Feb. 6, 2018
6-7pm PST
Dear Movement Builders,
You are invited to join the first Monthly Call for the SF Bay Area educators network. Calls will be held on the first 
Tuesday
 of each month. The agenda for the call is attached.
Ideas for Future Workshops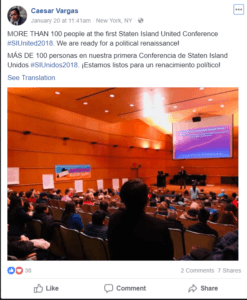 We are pleased to have as guest speaker: Steve Lawton, Pres. CWA Local 1102 in New York.
Steve will share how he planned and conducted the one-day "silo-busting" conference: Staten Island United 2018
https://www.siunited2018.org/
 with 15 progressive groups and 140 attendees.
The conference featured break-out sessions (Labor Rights, Immigration and Criminal Justice Reform, Environmental Justice) all with a local focus. Les Leopold gave a talk on Runaway Inequality to the large group (see tweet attached).
On this call, we would love to get your ideas on the viability of doing a similar event in Santa Cruz (and/or elsewhere) in the August-September timeframe.
Success Stories
We'd love to hear your success stories in helping others understand what you know about the causes and solutions for income- and wealth inequality.
A meeting invitation will follow. Using Zoom videoconferencing, all you do is click on the link provided. I look forward to having you join us on the call.
Best regards, Eve
Eve Majure
Movement Builder
Reversing Runaway Inequality
---
AGENDA
6:00 – 6:20pm  Ideas for Future RRI Workshops                                            (Eve Majure, Natalia Molina)
"Santa Cruz United 2018"
A proposed one-day event modeled on "Staten Island United 2018".
The event would feature 10-15 groups focusing on local Santa Cruz issues including Indivisibles, the Democratic Party, Democratic Socialists of America, immigration rights, criminal justice reform, housing rights, unions, students, Sierra Club, etc.
It would include a 1- hour presentation to all groups/attendees on Reversing Runaway Inequality.
Guest speaker Steve Lawton, Pres. CWA Local 1102, New York
Santa Cruz Democratic Party One-Day Workshop
6:20 – 6:30pm  National/Regional Update                                                                 (Eve Majure)
                                    Santa Cruz Activist Fair (58 organizations)
                                    Santa Cruz People's Democratic Club
                                    UC Berkeley School of Social Welfare Justice Symposium
                                    South Bay Progressive Alliance/Movement for a People's Party
                                    Enviro-Econ Workshop (CWA, USW, Sierra Club)
6:30 –  6:50pm             RRI Success Stories from You                                                             (All participants)
6:50 – 7:00pm             Roundtable, Q&A, Suggestions, Action Item Review                       (All participants)